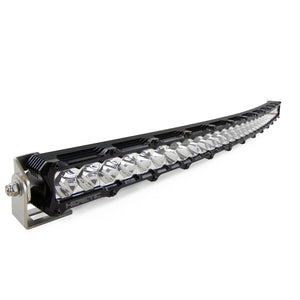 UTV 30" Curved LED Heretic 6 Series Light Bar - BLACK
UTV 30" Curved LED Heretic 6 Series Light Bar - BLACK
Options:
Beam Pattern:
Combo (Spot & Flood Beam)
Spot Beam
Flood Beam

Add a wiring Harness (Y/N)
Yes + $39.99
No

Lens Color
Clear
Amber + $35

30" bar none:
30" of precision bent fun. one of the most versatile lights in our lineup! not only is this the best bang for the buck. its size allows for a variety of fitments e.g. behind the grill of your car or truck, between the pillars of your utv/rzr cage or roof rack. with the output of this bar, you'll be able to see through anything in your path.
features and specs include the following:
designed in the USA, patented in the USA, manufactured in the USA, assembled in the USA, supported in the USA, shipped from the USA

-(30) 6-Watt Cree Led
-Full 180 Watt Driven At 100%
-21780 Lumen
-6061 Billet Housing
-34 X 2 X 1.5
-IP68 Rated
-AMP Draw 17.9 Peak At 13.8v
-Stainless Steel Mounts
-Optional Amber Lens Available
-LUX: 6188
-Candella: 618750

Build times can vary but most items ship within 1 week of placing the order. please give us a call if you need things sooner and we'll do our best to expedite!

30-day satisfaction guarantee, and a lifetime warranty.